My Hike
We saw how our public lands suffered during the government shutdown. Together, we'll give back to the places we love while we get out to experience their unique beauty.
Plan an Adventure
Whether you traverse the Appalachian Trail or take a wander around your local woods, plan an adventure you know you'll love.
Raise Money
Ask friends and family for donations on your -- well, on the planet's -- behalf!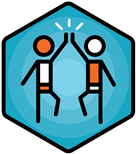 Gather your Trekkies
Adventures are more fun with friends! Grab your tribe and set out!
Let's Reach our Goal of $5,000
Teams and Hikers
Select A Group: